Chairman's Message: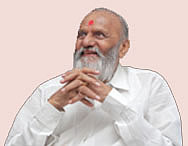 I am indeed glad to give my message during the launching of the school's website. In this fast growing scenario when everybody expects to get information within seconds, it has become necessary rather than a fascination to launch website of I. B. Patel English School.
I congratulate the principal of I. B. Patel English School for her efforts to venture out the project.
I am sure this school fulfils the dream of young flowers into reality.
I wish all the best for the school.
Charutar Vidya Mandal
Vallabh Vidyanagar
"To act alone is thy right"